25 million years-old UNESCO World Heritage Site, 1,700 m deep (5,000 feet), 636 km long, 79 km wide, Lake Baikal is the oldest, deepest freshwater lake in the World with the purest and clearest water, and home to many endemic species of animals and plants.
It is roughly in the middle of Russia, close to the Mongolian border and on the Trans-Siberian train route and is known to be a high place for shamans. Olkhon Island is, a Sacred Centre for shamans and a place where rites are still being performed.
With its spiritual fame and incredible shades of blue, Lake Baikal soon became a must-do on our Trans-Mongolian journey ! Let me tell you the story of our time on Olkhon Island and give you some tips on how to plan this adventure for yourself.
But first, a short video that sums up our trip to the Lake :
Tale of our journey to Lake Baikal
Irkutsk
After 4 days and 4 nights in the train, we finally arrived in Irkutsk. We were happy to arrive at our hostel, Nerpa hostel, and to find an empty dorm all to ourselves ! Eager to go to Olkhon Island as soon as possible, we only spent one day in Irkutsk, which is quite a nice city though (They call it the "Paris of Siberia"). Thanks to our lovely hostel staff, Maria, we managed to get everything sorted for our trip to Lake Baikal.
After a good night of sleep and a numerous amount of hot showers (4 days on a russian train without showers IS a challenge), we left our hostel to get on the Marshrutka (mini bus) to Olkhon Island. 5 hours on dirt roads, almost all destroyed by potholes. A hell of a ride, disrupted by cattles obstructing the way, and a driver who was driving a million-years-old russian van with a cracked windscreen, way too fast.
Everyone on the marshrutka was Russian and no one spoke a word of English except for one guy who was probably quite amused to see our confused faces. Thanks to him we managed to order the local dish, posas, in a Buryat restaurant where we stopped for lunch. Posas are sorts of sheep meat dumplings and they are de-li-cious, you must try them !
Olkhon Island
After crossing the lake in a ferry, we finally arrived to the village of Khujir (pronounce "Rrrhuzir"), the "capital" of Olkhon. Our driver left us at Sergueï's, Olkhon's most famous bell ringer and host of Philoxenia, a house for travellers passing by.
Philoxenia, the travellers' shelter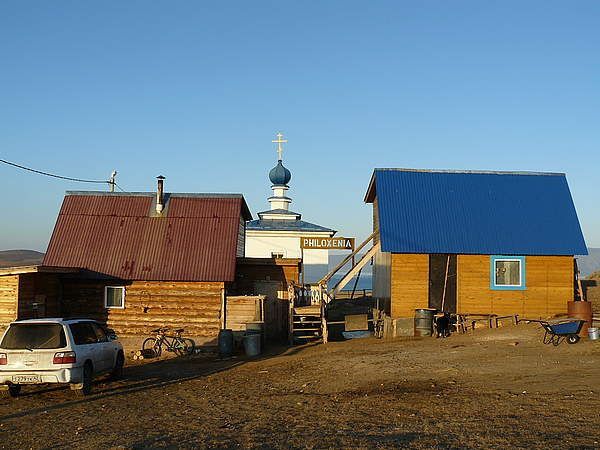 When doing some research about Lake Baikal I found out that there was one guy doing couchsurfing on Olkhon Island ! Sergueï lived in Paris where he studied Philosophy at Sorbonne University, speaks fluent French, lived in a monastery in Greece, and therefore speaks Greek too. Even if you don't stay at Philoxenia, you must meet him, he is one of the most interesting person we met on our 3 months backpacking trip around the World.
Over the years, the couchsurfers helped Sergueï building a house for travellers coming to visit Olkhon. It has all you need : a roof over your head, a few beds and electricity. No shower and the toilets are outside though. The lake is the main water supply, we used to go down to fill big buckets of water to shower, clean and cook. People there drink the water, I did too, but let's just say western stomachs may not be adapted to it as well as the locals…
The house has several bunk beds and space for 6 people or so. We met a couple of French and a couple of Portuguese backpackers who were staying there at the same time. When staying at Philoxenia, the name Sergueï gave to his "travellers' shelter", one must give a hand with the many works and things to do around the house. Our task was to move some big rocks and … dig a hole for the new toilets. Not the most rewarding work you will say, but it had to be done !
There are many guest houses in Khujir, the most popular one is Nikita's Homestead as they offer a great range of services. But it is also the most expensive one, as they include the meals (breakfast & dinner), which can't be taken out of the price. I think they also are the only one to have actual hot showers, which probably explain the price. If you are a backpacker travelling on a budget, there will be a lot of other options in the village, just knock on people's doors, or head up to Philoxenia !
Day tour of Olkhon Island
There are lots of activities and hikes to do on the island, most of them organised by Nikita's Homestead, which is also a tourist information office. We did a day tour (11am-6pm) of the Island in a russian truck for 700 rubles each (approx. 15€ per person), lunch included. In French language, roller coasters are called "Russian Mountains" and it all suddenly made sense… The dirt roads, the hills, the speed the driver was going to and the lack of shock absorbers on this Russian van was pretty much just like a roller coaster ride.
The tour took us to Cape Khoboi, the most northern point of the island, and one of Baikal's most sacred spots. On the way, we got wonderful views on the mountains in the distance, we went through an old gulag called Kharantsiy, a forest full of rhododendron and the sand dunes of Peschanka. We stopped at the "Three Brothers" cape, walked on its lichen-covered marble cliffs, where our driver/cook treated us with a campfire lunch of hot fish soup and tea.
See more photos on our Flickr album.
I was only a little disappointed not to know where we were and what we were looking at, despite our driver trying to explain with hand gestures and that Russian couple kindly trying to translate as much as they could. It was still a beautiful day out and we definitely recommend it if you plan a trip to Olkhon. We are not usually fans of tourists tours but we were only staying 5 days on Olkhon and it is so big we didn't want to miss on something.
Bike tour
The next day, we decided to rent bikes and go explore the island on our own. You can rent bikes for the day at Nikita's for 600 rubles each, and you have until 8pm. To be honest the bikes weren't that good… We tried a few before selecting one as they were almost all in bad shape. They gave us this "map" of the island showing the paths we could take.
Khujir was on the western shore of the island, so, advised by Sergueï who told us it was only 15 km, we decided to cross the island go to the eastern shore. It was actually more than 20 km each way, sand roads and VERY hilly. It took us 5 hours to get to the other side. But it's also because we took our time to take pictures and film the beautiful sceneries around us.
Along the way we had times when we were worried we would never make it back before dark and almost went back. I am so glad we didn't, because the beach we ended up to was a little paradise !
We wished we had a tent to camp for the night as it was the perfect spot, no one around, perfect green grass, a fire pit, a table, and a view on the lake, all for ourselves. It didn't last long as we had to cycle all the way back to the village before 8pm and it was already 5pm… Ouch. But we did it, we arrived and gave the bikes back at 8.03pm !
See more photos on our Flickr album.
That night, we rewarded ourselves with an hour in the banyas. A banya is a sauna where you can wash yourself. It was so warm and cosy, after such a hard day, surely well deserved ! We went to a nearby guest house and paid 200 rubles each (3 times cheaper than Nikita's).
The next days were less productive and spent admiring the views on this fascinating lake. Here I let the photos speak by themselves.
See more photos on our Flickr album.
We spent 5 amazing days on the island of Olkhon and wished we never had to leave. It is such a peaceful place, I have never felt so serene and calm in my life. You could spend hours gazing at the shades of blue of the water and the colours of the sky.
If you have a list of places to go before you die, then the Island of Olkhon on Lake Baikal would be in the top 10.
Useful informations
Budget spent for 2 persons* 
Nerpa hostel in Irkutsk : 880 rubles (=17,80€) for 1 night
Bus to Olkhon : 1600 rubles (=32,37€)
Island Tour : 1400 rubles (=28,32€)
Dinner at Nikita's : 210 rubles (=4,25€)
Bike rent : 1200 rubles (=24,28€)
Banyas : 200 rubles (=4€) / 1 hour
Food shopping on the island : 1444 rubles (=29€)
Bus back to Irkutsk : 1400 rubles (=28,32€)
TOTAL : 8334 rubles (=168,34€)
*At the time (May 2014) 1€ = 49 rubles, now it's 1€ = 72 rubles (1$ = 64 rubles).
How to get to Lake Baikal
There is an airport in Irkutsk, but the cheapest way would be to take the famous Trans-Siberian train. Depart from Moscow or Beijin on the train and stop in Irkutsk. Plus it is a whole wonderful journey in itself.
Where to go to see Lake Baikal
Listvyanka : 2 hours way from Irkutsk, a nice little town on the shore of the lake
Severobaikalsk : a town on the northern shore of the lake
Olkhon Island : the biggest island and a high place of shamanism
Olkhon Island
Facts
The island is 72 km long (45 miles) and 15 km (9,4 miles) wide, with a population of 1500 people
The legend says it is where Gengis Khan was burried
How to get to Olkhon Island
We tried to buy our tickets the day before from the bus station ticket office and it was quite an adventure… The ladies at the desk were either rude or not willing to reply to our questions, even though we had translated our request in Russian. We spent maybe 2 hours walking around town, trying to find a way to buy those damn tickets in advance, and finally quit and went back to the hostel with no tickets. In the end, it's Maria, the hostel staff who booked the bus for us. We paid 1400 rubles for 2 tickets, plus 200 rubles for the bus to come get us directly at the hostel. But we could have walked all the way to the market place (where the bus departs from) and pay our tickets directly to the bus driver.
Tips
Buy as much food as you can before going to Olkhon, where everything is quite expensive
No need to book in advance, unless you go during high peak season
Allow at least 5 days on Olkhon Island, more if you can
Bring camping gear if you can
Have you been to Lake Baikal yet ? Did this post make you want to plan a trip there ? Let us know in the comments below !
The player isn't displaying properly ? Watch it here.
In Expedition 100, Violette & Antoine are taking you on an ultimate world tour seeking their top 100 most extraordinary places on Earth.
Come with us to explore the temples of Angkor, the largest religious complex in the world ! Watch the sunrise over Angkor Wat, play around Ta Prohm temple like Lara Croft, enter Preah Khan through the secret jungle entrance with 360 videos. But you'll also get to meet the locals living on Tonle Sap Lake and to see life at K.K.O., a green N.G.O. running tours and training workshops in Siem Reap.
--
Don't forget play with the EXPLORE menu for extra content : travel tips, awesome pictures, interviews and more !
Learn more : how to use NextGen vlogs.