The Trans-Siberian train is one of the most iconic train journeys there is and although it's a popular route amongst our fellow travellers, it is one of the greatest travel experience we had !
When planning our trip from Paris to New Zealand we wanted to avoid flying as much as possible and pass by South East Asia.
Going from Western Europe to Asia for the first time, we wanted to actually see the changes in the sceneries, cultures and people, and really feel how far we were going.
By avoiding planes, travelling slowly with the locals, you truly discover what's on the way and get a real sense of what travel is about.
A journey on the Trans-Siberian train is not only a great (and very cheap) way to reach any North-Asian destination but it's also a travel experience you'll never forget !
In this post we will tell you everything we learned about this journey across Russia and share with you some useful information you will need when planning your own trip.
But first, here's the video of our Trans-Siberian experience :
Useful informations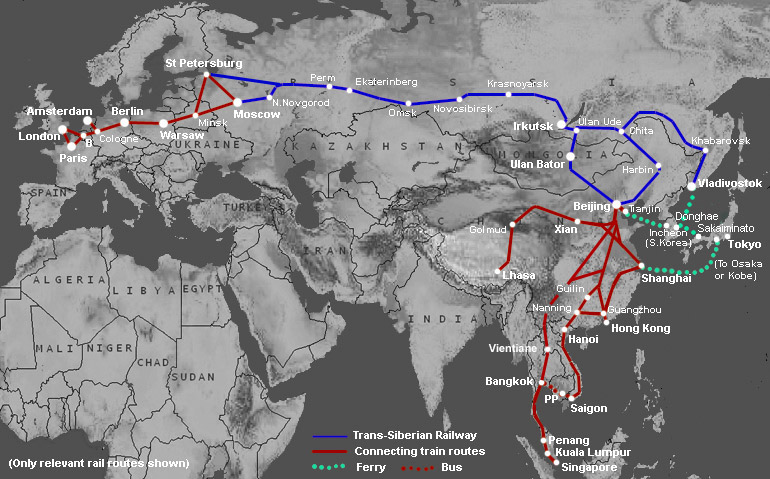 There are 3 different routes
Moscow to Vladivostok, the Trans-Siberian train crossing Russia from one end to the other
Trans-Manchurian, from Moscow to Beijing, crossing Manchuria
Trans-Mongolian, from Moscow to Beijing, crossing Mongolia via its capital city Ulan-Bator and the Gobi Desert
We chose the Trans-Mongolian route, from Moscow to Beijing as we wanted to see as many different countries as we could, and also because we were curious about seeing the Gobi Desert.
Unfortunately we didn't have the best experience in Mongolia and we will tell you why in another post…. If we were to do it again, we would do one of the other routes and reach Japan or South Korea by ferry.
Booking tickets online by yourself
Official Russian Railway Company (RZD) Website :
http://eng.rzd.ru/
Only use this website when booking your tickets online, many agencies have websites that look like an official one but their prices are very high.
The English version of the Website is pretty recent, it was launched just before we booked our tickets. Before that, travellers had to buy their tickets directly to the ticket office in the train station and, knowing how uncooperative some Russian cashiers are, it wasn't easy…
Classes
1st Class, called "Spalny" : 2-berth cabin (lockable), 2 shared wash-rooms and toilets in each carriage, plugs available in the cabin and the corridor
2nd Class, called "Kupé" : 4-berth cabin, 2 shared wash-rooms and toilets in each carriage,  plugs available in the cabin and the corridor
Economy Class, called "Platskartny" : Open compartment of 54 berths by carriage, no wash-room, 2 toilets, 2 plugs (next to the toilets). The cheapest and of course, the one you want to be in if you are looking for real adventure !
Cost
Moscow to Irkutsk in Economy Class, for 2 persons : 12,317 rubles (in May 2014, = 249,16€, at the time) for about 5200 km in 87 hours.
This was the cheapest ticket we bought on our 3-months trip to New Zealand by buses and trains !
Safety
Safety shouldn't be an issue, although we recommend you not to display expensive equipment especially if you are travelling in Platskartny. Better be safe than sorry !
Although some compartments are occupied almost exclusively by military troops and it can get a little messy due to their massive use of Vodka… If you are just passing through, it shouldn't be a problem.
Life on the train
Bedding
The 54 berths in the Platskartny carriage are arranged in bays of 4 (2 upper and 2 bottom berths) and 2 along the wall separated from the other berths by the corridor.
Make sure you choose the berths in the middle of the carriage, as the toilets are located at each end and trust me you don't want to be near them because of the smell…
We chose two upper berths facing each other.
Sleeping on the upper berth means that you can lie down whenever you want to. The inconvenient is that you don't have a lot of space to sit down and that you are dependent on your neighbours whenever using the table. With the bottom berth, you can sit down and you are closer to the aforesaid table… Tough choice !
If you are travelling with a friend or as a couple I would recommend to get one of each. That way you get the best of both positions.
I don't recommend the berths along the wall if you are tall because you won't be able to stretch your legs. Prefer the beds arranged in a bay of 4, it won't be a problem if your feet are bigger than the berth.
The provodnistas give you clean sheets, a mattress and a pillow, and it was just as comfortable as a regular bed.
Everyone can sit down on the bottom berths during the day but keep in mind it is someone's bed, so you have to respect your neighbours and leave when you understand they would like to lie down.
Luggage
There is a trunk under the bottom beds and a shelf above the upper beds. The upper shelf has the advantage to be away from other passengers.
Don't forget you are in an open space with 50 other strangers, stay cautious !
If you are travelling with many expensive digital devices (sush as we do !), make sure you use and store them discreetly. You don't want too much attention on them. Our laptops stayed in our backpacks and we only used our phones, DSLR camera and the GoPro.
We had all the essentials with us on the bed, put away on the little shelf above it : toilet bag, towel, change of underwear/t-shirt, a book and our travel diary.
The rest was in our backpacks locked on the top shelves. We also slept with our wallets and phones put inside the pillow case.
It may seem like we're paranoid but that way we travelled safely. There's nothing weird about being a bit paranoid when you're a digital nomad !
How and what to eat ?
There is a table between the 2 bottom berths in each bay and one in the middle of the bottom berth along the wall (which is another reason why I don't recommend the berths along the wall).
Dinner time is tricky as the table is quite small and it's difficult to all use it at the same time. But you get used to it and usually the bottom beds people let you have it when you want to eat.
The provodnista, the train hostess, keep the samovar (water heater) full and make sure the water is always hot.
The popular menu on the train is instant noodles and tea. Easy and cheap ! People also bring bread, dry meat, dry fruits and sunflower seeds.
You can also buy food from locals on the platforms when the train stops. There are several stops every day, some are only a few minutes but each day you get to go out and stretch your leg for 30 minutes or an hour. They mainly dry fish and some sort of potato doughnuts, which are very oily but delicious.
If you get bored of instant noodles and tea, there is a
restaurant car in the train
, we tried a few things on the menu and it wasn't so bad. Of course it's train food, not the best you'll ever have but it's not too expensive.
How to have a wash ?
There are no showers in the economy class and there are only two toilets for 50 persons… I won't lie, it doesn't smell like a spring meadow !
Make sure you go very early in the morning, right after the provodnista has done the cleaning. As long as you bring a washing mitt and some soap you are fine, since you are not going to run a marathon in the train you won't get too sweaty anyway.
Also keep in mind that they close the toilets ½ hour before and after each stop. The lists of every stop is displayed near the provodnista's cabin (if you can manage to decipher it).
What to do in the train ?
Well there's not much to do besides reading, which makes the journey deeply initiatic (depending on what you're reading).
So, make sure you bring a book or an ebook reader ! Actually an ebook reader might be better because if you are stuck with a book you don't like for four days it will be a very long one.
There are only two plugs to charge your devices for 50 persons, if you stay a few days in the train, don't count on your laptop or phone.
Our main activities were : admiring the view outside (birches, birches and more birches), sleeping, eating, drinking tea, more sleeping, reading, thinking and trying to communicate with your neighbours.
My most striking memory is how much time I had to do some introspection ! Reading Siddhartha probably inspired it.
How often do you take the time to actually dive into your thoughts ?   Being on that train will give you time to think things through.
Everything is so sloooww.
It is precious. Embrace it.
I learnt that, not only can I live on a train for 4 days and actually love it !
Meeting people
We had the best encounters in Russian trains, not only on the Trans-Siberian but also the night train from Saint Petersburg to Moscow where we met three awesome girls with whom we talked for hours !
On the train from Irkutsk to Ulan-Ude where, some guys, curious about us and our travels, offered us gifts from their hometown and wanted to exchange some small coins.
Although they didn't mind us not giving anything in return (I was embarrassed not to have anything to offer), next time I go on a trip like this one I'll bring souvenirs from my home country to give away as a friendly gesture.
On the Trans-Siberian Train, we were the only non-Russian speakers on the carriage, and it got noticed quickly. Since we don't speak Russian, it was hard for us to communicate with the provodnistas and our neighbours.
It felt frustrating sometimes.
We did have some great encounters though. We met Stas, a guy from Ukraine who spoke a little English and helped us learn a bit of Russian too (thanks to Google translate and a few drawings).
One of our neighbours, a lady who didn't speak a word of English, was distant the first few days but, in the end, she taught me a few Russian words (you'll see it in the video).
A lot of Uzbeks were on the same carriage who were quite nice with us. Not that we were really able to talk to them because again, communication was difficult, but they were smiley and polite. One of them saw me drawing and got curious. I started drawing his portrait and soon all of his companions wanted a portrait too ! A shame I don't have a picture to show you, I actually gave them the drawings.
During our travels in Russia, it was rare to meet someone who spoke English and we generally found them quite shy when they didn't. Sometimes they were a bit rude, especially cashiers at the tickets office who were not looking or talking back to us, pretending we were not here. But they were not the majority, we met some of the friendliest people in Russia.
With no surprise, the best way to meet people on the Trans-Siberian is to share a drink with them !
Our last night on the train we went to the restaurant car and spend hours talking and laughing with a bunch of awesome guys : a Belgian, two Russians and one from Finland who wouldn't stop pouring us cognac. Definitly the best night on the train !
When I look back at our days on board of the Trans-Siberian train I tend to forget how much I wanted a shower and sleep like a starfish, I forget the smell of feet and the drunk guys smelling like vodka and being way too close…
Because when I look back at what was THE most epic train ride I've been on, I smile, I remember the sunrises and the sunsets, the people we met and the hours we spent talking and laughing.
I remember the excitement of the unknown.
Ressources
Here is a website we recommend you to read whenever you are planning a train or bus trip. It gives you very accurate and useful tips !
Is the Trans-Siberian route on your bucket list or have you done it before ?
Tell us what you think in the comments below !
The player isn't displaying properly ? Watch it here.
In Expedition 100, Violette & Antoine are taking you on an ultimate world tour seeking their top 100 most extraordinary places on Earth.
Come with us to explore the temples of Angkor, the largest religious complex in the world ! Watch the sunrise over Angkor Wat, play around Ta Prohm temple like Lara Croft, enter Preah Khan through the secret jungle entrance with 360 videos. But you'll also get to meet the locals living on Tonle Sap Lake and to see life at K.K.O., a green N.G.O. running tours and training workshops in Siem Reap.
--
Don't forget play with the EXPLORE menu for extra content : travel tips, awesome pictures, interviews and more !
Learn more : how to use NextGen vlogs.